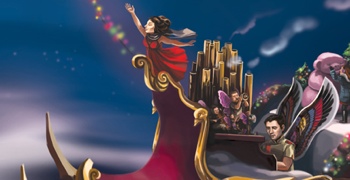 Sufjan's Stevens has released a fun Christmas Project for 2007, The Great Sufjan Song Xmas Xchange! It was proposed to myself and other musical friends by Ian Davidson (whose blog only has two posts--one from '05, the other from '06, but at least one of them is well worth reading. You pick which one.) Musicians can submit original tunes, and having chosen their favorite, Sufjan and his crew will trade you for one of his original tunes that will now become rightfully yours. Brilliant.

I know that many think that Sufjan is over-rated and full of propaganda, but I simply think his music and his style of marketing is irresistible. Last year when he released the Songs for Christmas Box Set, it came not only with 5 discs of Christmas music (some traditional, some original,) but also with a Sufjan Stevens family Christmas portrait (poster-size), a sing-a-long book, and little Christmas stickers with cartoon angels and lions with lambs. It was adorable. But what is so incredible is that in all the goofiness and charm, the music is still so rich, unique, and just plain good. The man makes good music. While some may say that statement is an "opinion," I submit that it is indeed a fact.

So--a little early to start blogging about Christmas music perhaps, but while putting up the tree is still far off in our minds (or should be at least), it wouldn't hurt to go ahead and get your Xmas box set, and commence song writing!