This post is a shout-out to Andy, because it's his birthday.

This is the best title of a blog I've ever heard in my life:

"I take a picture of the vending machine every day (or so). I am very sorry."

Andy found this little gem via PSFK. They give a good explanation.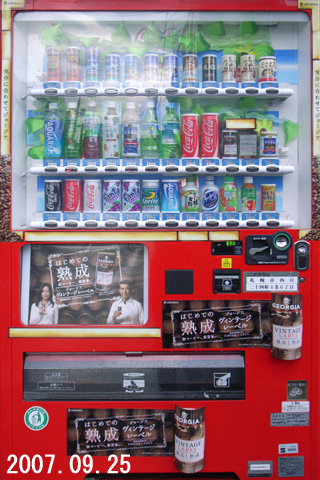 In other news, I've been under the weather so haven't been around blog-land much. Funny being sick--seems like sitting on the couch, laptop in hand, would be a nice idea. But no--sleeping is the only nice idea. No reading. No writing. No talking. Sleeping.

Today it's cold and rainy and I love that. I spent the afternoon in my cubicle, where at least I have a sweet U2 poster from 1979 that Sarah Pierce gave me. At least there's that. And m&m's.

The Altar is this weekend, and after a much-needed afternoon in the cube to knock out the to-do list, I'm actually excited about it.

Now listening: old school Waterdeep (good for a rainy day)
Planning to start reading: Anthem by Ayn Rand (my first endeavor with Ayn Rand, props to Toby.)