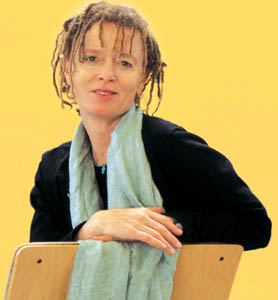 Last Thursday I had the great privilege of attending a Rainy Day Books event where one of my favorite authors, Anne Lamott, spoke and read excerpts from her most recent book, "Grace (Eventually)". Two of her previous works, "Traveling Mercies" and "Bird by Bird" have truly inspired me in a lot of ways, especially in regards to writing. She is also a compelling storyteller and it was nice to put a voice behind all her books that I have read.

Then it was Easter weekend. Jacob's Well filled my weekend with gatherings to commemorate it, including a Good Friday service, (where the Lar-dawg read the words of Jesus, which was insanely appropriate,) a Holy Saturday all-night prayer vigil, and of course Easter morning services (and pancake feast). In the midst of it, my days were scattered with great moments of community with friends and family. And golf. I decided to watch the Masters Tournament this year just to broaden the horizon of my preferred spectator sports, and it was a relaxing antidote for the weekend.

Today, I took my dear friend John Raux to the airport. He's headed for a six month-ish hike of the Pacific Crest Trail, from Mexico to Canada. It was a privilege to see him off. Not to mention he loaned me his super-vision giant binoculars while he's gone so I can star gaze. As well as a book about constellations. I'm going to miss him a lot--in a week or so his website johnraux.com will be up and running so we can follow his hike!

Tonight, I'm headed to watch a film called Black Gold, about the coffee industry and fair trade issues. It's on at random times on KCPT all week if you get a chance to catch it. Cheers!